About: Sanjay Vidyadharan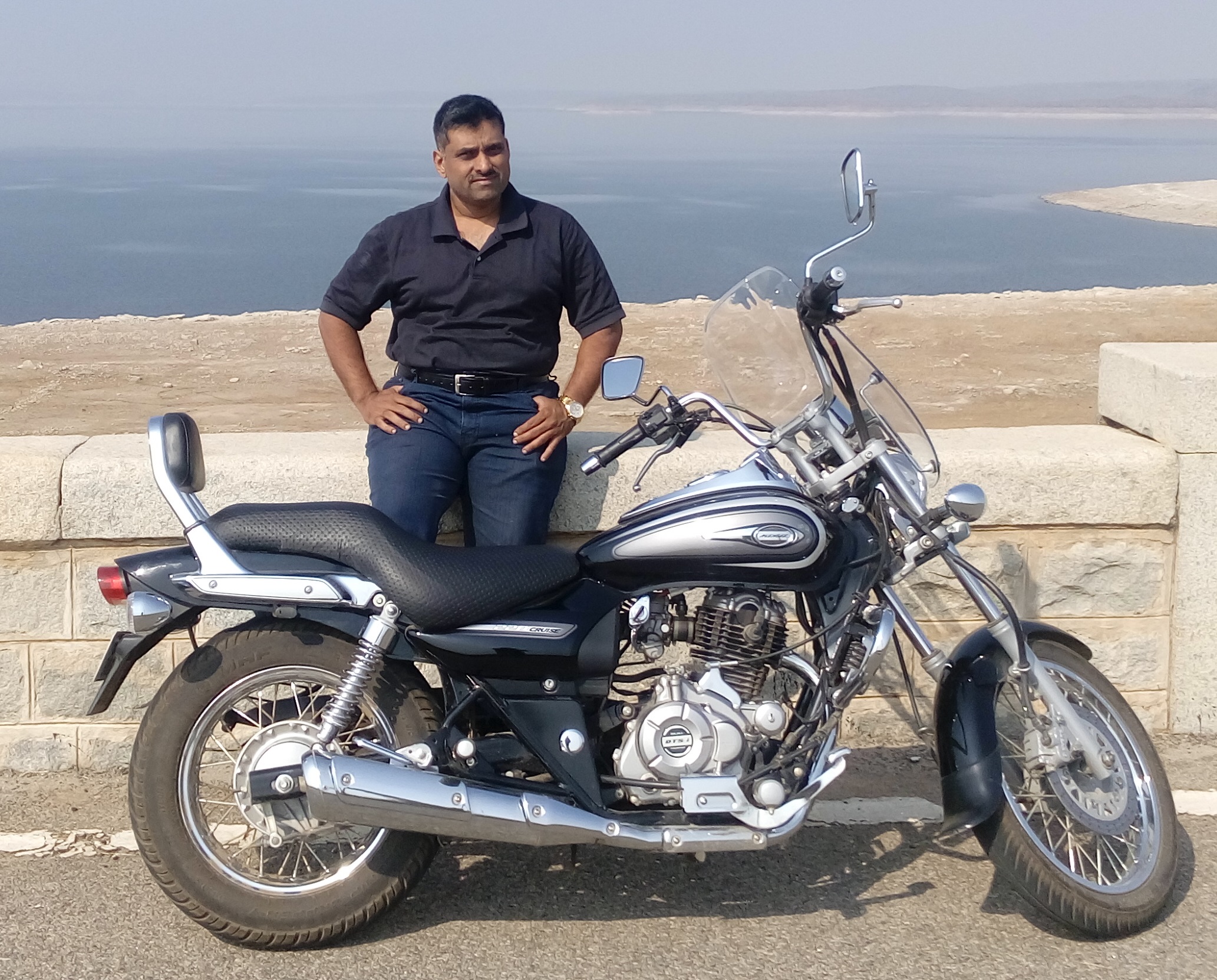 Role : Professor
Experience : 25 Years
Specialist in : Electronics and Electrical Engineering
Topics Handling
| Course Name | Lesson Name | Complexity | Length |
| --- | --- | --- | --- |
| Testability of VLSI | Lecture 14: Fault Tolerant VLSI Design | | 87 mins |
| Testability of VLSI | Lecture 13: Analog and Mixed-Signal Testing | | 98 mins |
| Testability of VLSI | Lecture 12: Built-in Self-Test | | 88 mins |
| Testability of VLSI | Lecture 11: Design for Testability | | 85 mins |
| Testability of VLSI | Lecture 10: Delay Testing | | 86 mins |
| Testability of VLSI | Lecture 09: Testing of Memory | | 109 mins |
| Testability of VLSI | Lecture 08: Testing of Sequential Circuits | | 95 mins |
| Testability of VLSI | Lecture 07: Automatic Test Pattern Generation for Combinational Circuits | | 79 mins |
| Testability of VLSI | Lecture 6B: Introduction to Automatic Test Pattern Generation | | 40 mins |
| Testability of VLSI | Lecture 6A: Testability Measures | | 58 mins |
| Testability of VLSI | Lecture 5: Fault Simulation | | 91 mins |
| Advanced VLSI Design | Lecture 5 Static Timing Analysis ( 2023-24) | | 96 mins |
| Testability of VLSI | Lecture 4: Logic Simulation | | 90 mins |
| Testability of VLSI | Lecture 3: Fault Collapsing | | 95 mins |
| Introduction to Radars | Lecture 4: MTI and Pulsed Doppler Radars | | 34 mins |
| Testability of VLSI | Lecture 2: Fault Modelling | | 101 mins |
| Testability of VLSI | Lecture 1: Introduction to VLSI Testing | | 86 mins |
| Introduction to Radars | Lecture 3: Unmodulated CW Radar | | 23 mins |
| Introduction to Radars | Lecture 2: Modulated CW Radars | | 24 mins |
| Introduction to Radars | Lecture 1: The Radar Range Equation | | 39 mins |
| VLSI Design Using LT SPICE | Lesson 1: Basics of LT SPICE | | 89 mins |
| Analog IC Design | Lecture 13: Gain Boosting and Output Amplifiers | | 69 mins |
| Advanced VLSI Design | Lecture 10: Advanced VLSI Design: Arithmetic Circuits: Part-2_2022-23 | | 80 mins |
| Analog IC Design | Lecture 12: Stability and Oscillators | | 93 mins |
| Advanced VLSI Design | Lecture 9: Arithmetic Circuits: Part-1 2022-23 | | 85 mins |
| Analog IC Design | Lecture 11: Operational Amplifiers | | 105 mins |
| VLSI Design | Lecture 16: Arithmetic Circuits: Part-1 2022-23 | | 114 mins |
| Analog IC Design | Lecture 10: Feedback | | 113 mins |
| Analog IC Design | Lecture 9: Frequency Response of Single Stage Amplifiers | | 106 mins |
| Analog IC Design | Lecture 8: DC Voltage and DC Current Sources Part-2 | | 78 mins |
| Analog IC Design | Lecture 7: DC Voltage and DC Current Sources | | 85 mins |
| Analog IC Design | Lecture 6: Differential Amplifiers Part-3 | | 101 mins |
| Analog IC Design | Lecture 5: Differential Amplifiers Part-2 | | 116 mins |
| Advanced VLSI Design | Lecture 4B: Static Timing Analysis 2022-S1 | | 35 mins |
| Advanced VLSI Design | Lecture 4A: Pipelined Registers_2022-S1 | | 54 mins |
| VLSI Design | Lecture 6: CMOS Inverter Static Characteristics_2022-S1 | | 98 mins |
| Analog IC Design | Lecture 4: Differential Amplifiers Part-1 | | 103 mins |
| Analog IC Design | Lecture 3: MOSFET Single Stage Amplifiers Part-2 | | 90 mins |
| Analog IC Design | Lecture 2: MOSFET Single Stage Amplifiers Part-1 | | 115 mins |
| Analog IC Design | Lecture 1: Review of MOSFET Operation | | 74 mins |
| VLSI Architecture | Lecture 11: Pipelined Architecture | | 61 mins |
| VLSI Architecture | Lecture 10: Timing Signals | | 51 mins |
| VLSI Architecture | Lecture 9: Flowcharts to Datapath Control Design | | 44 mins |
| VLSI Architecture | Lab 8: Sequential Circuit Design using Flip-flops in Xilinx | | 16 mins |
| VLSI Architecture | Lecture 8: Hardware Flowcharts Part-3 | | 47 mins |
| Advanced VLSI Design | Lecture 14B: CMOS Scaling | | 18 mins |
| Advanced VLSI Design | Lecture 14A: Deep-Submicron MOSFET operation | | 58 mins |
| VLSI Design | Lecture 19: CMOS Testing | | 83 mins |
| Advanced VLSI Design | Lecture 13: Interconnects | | 63 mins |
| Advanced VLSI Design | Lecture 12C: Adiabatic Logic | | 17 mins |
| VLSI Design | Lecture 18: Memory Design | | 86 mins |
| Advanced VLSI Design | Lecture 12B: Low Power VLSI Design Part-2: Architecture, Algorithmic, and RTL Level Optimization | | 33 mins |
| Advanced VLSI Design | Lecture 12A: Low Power VLSI Design Part-1: Gate Level Optimization | | 62 mins |
| VLSI Design | Lecture 17: Arithmetic Circuits: Part-2 | | 76 mins |
| Digital VLSI | The Layout of NAND Gate in Cadence Virtuoso. DRC and LVS Check | | 32 mins |
| Advanced VLSI Design | Lecture 11: Memory Design | | 98 mins |
| VLSI Design | Lecture 16: Arithmetic Circuits: Part-1 | | 73 mins |
| Advanced VLSI Design | Lecture 10: Arithmetic Circuits: Part-2 | | 70 mins |
| VLSI Design | Lecture 15: Pass Transistor Logic | | 66 mins |
| Advanced VLSI Design | Lecture 9: Arithmetic Circuits: Part-1 | | 73 mins |
| VLSI Design | Lecture 14: Adiabatic Logic | | 27 mins |
| VLSI Design | Lecture 13: Domino Logic | | 43 mins |
| VLSI Architecture | Lab 7: Applications of Decoder, Encoder, and Multiplexer in Xilinx Verilog | | 24 mins |
| VLSI Architecture | Lecture 7: Hardware Flow Chart-Part-2 | | 53 mins |
| VLSI Architecture | Lab 6: Multiplexer Design using Verilog in Xilinx | | 16 mins |
| VLSI Architecture | Lecture 6: Hardware Flow Chart Part-1 | | 68 mins |
| Advanced VLSI Design | Lecture 8: Interfacing Circuits – Part-3 Level Shifters and IO PADS | | 75 mins |
| VLSI Design | Demo on Dynamic Full Adder in LT SPICE Using 180 nm TSMC Files | | 25 mins |
| VLSI Design | Lecture 12: Dynamic Logic | | 60 mins |
| VLSI Architecture | Lab 5: Decoder and Full Adder Design using Verilog in Xilinx | | 14 mins |
| VLSI Architecture | Lecture 5: ALU Design and Microprocessor Design | | 46 mins |
| Digital Design 2021 | Lecture 30: Demonstration of RTL, DTL, CMOS NAND, and NOR in LT SPICE | | 13 mins |
| Digital Design 2021 | Lecture 29: Digital Logic Families | | 44 mins |
| VLSI Architecture | Lab 4: Handling multi-bit data and Concatenation in Verilog | | 24 mins |
| VLSI Architecture | Lecture 4: Instruction Set Architecture and MIPS Instructions | | 68 mins |
| Digital Design 2021 | Lecture 28: Programmable Logic Devices | | 24 mins |
| Digital Design 2021 | Lecture 27: Memory | | 32 mins |
| VLSI Architecture | Lab 3: Initialization in Verilog using XILINX ISE E | | 17 mins |
| VLSI Architecture | Lecture 3: Computer Arithmetic Algorithms and Implementations | | 53 mins |
| Digital Design 2021 | Lecture 26: ADC and DAC | | 43 mins |
| Digital Design 2021 | Lecture 25: Applications of Sequential Circuits | | 27 mins |
| Advanced VLSI Design | Lecture 7B: Part-2, Schmitt Triggers | | 56 mins |
| Advanced VLSI Design | Lecture 7A: Interfacing Circuits – Part-1, Synchronizer, and Arbiters | | 31 mins |
| VLSI Architecture | Lab 2: Implementation of Adders in Xilinx ISE Verilog Data Flow Level Modeling | | 20 mins |
| VLSI Architecture | Lecture 2: Microprocessor Architecture | | 54 mins |
| VLSI Design | Lecture 11: Layout of Static CMOS Circuits | | 68 mins |
| Digital Design 2021 | Lecture 24: Asynchronous Counters | | 17 mins |
| Digital Design 2021 | Lecture 23: Synchronous Counters | | 40 mins |
| Advanced VLSI Design | Lecture 6: Latch Based Clocking & Asynchronous Clocking | | 83 mins |
| VLSI Design | Lecture 10: Delays in Complex CMOS Static Logic Circuits | | 44 mins |
| VLSI Design | Lecture 9: CMOS Static Logic | | 60 mins |
| VLSI Architecture | Lab 1: Implementation of Majority Circuit in Xilinx ISE | | 26 mins |
| VLSI Architecture | Lecture 1: Introduction to VLSI Architecture | | 55 mins |
| Digital Design 2021 | Lecture 22: Registers | | 27 mins |
| Digital Design 2021 | Lecture 21: State Table Reduction & Implication Chart | | 36 mins |
| Advanced VLSI Design | Lecture 5B : Clock Generation and Distribution Part-2 | | 30 mins |
| Advanced VLSI Design | Lecture 5B: Clock Generation and Distribution Part-1 | | 62 mins |
| VLSI Design | Lecture 8: CMOS Inverter Transient Response | | 67 mins |
| VLSI Design | Lecture 7: MOS Capacitance | | 18 mins |
| Digital Design 2021 | Lecture 20: Sequence Detector | | 17 mins |
| Digital Design 2021 | Lecture 19: Sequential Circuit Design | | 38 mins |
| Advanced VLSI Design | Lecture 4B: Static Timing Analysis | | 27 mins |
| Advanced VLSI Design | Lecture 4A: Pipelined Registers | | 50 mins |
| Digital Design 2021 | Lecture 18: Sequential Logic Flipflops | | 37 mins |
| Digital Design 2021 | Lecture 17: Sequential Logic, SR, D Latch | | 35 mins |
| Advanced VLSI Design | Lecture 3: Dynamic Registers | | 90 mins |
| VLSI Design | Lecture 6: CMOS Inverter Static Characteristics | | 88 mins |
| VLSI Design | Lecture 5: CMOS Scaling | | 16 mins |
| VLSI Design | Lecture 4: CMOS Technology | | 60 mins |
| Advanced VLSI Design | Demonstration 2: Latch and Flip-flops | | 13 mins |
| Advanced VLSI Design | Lecture 2: Latch and Flip-flops | | 80 mins |
| VLSI Design | Lecture 3: Deep-Submicron MOSFET operation | | 18 mins |
| VLSI Design | Lecture 2: Review of MOSFET Operation | | 75 mins |
| Advanced VLSI Design | Demonstration 1: Installation of TSMC 180 nm Technology Files in LT SPICE | | 23 mins |
| Advanced VLSI Design | Lecture 1: Introduction to VLSI Design | | 62 mins |
| VLSI Design | Demonstration 1: Installation of TSMC 180 nm Technology Files in LT SPICE | | 23 mins |
| VLSI Design | Lecture 1: Introduction to VLSI Design | | 62 mins |
| VLSI Design Using LT SPICE | Lesson 6: SRAM Design | | 29 mins |
| VLSI Design Using LT SPICE | Lesson 5: Pass Transistor Logic Design | | 22 mins |
| VLSI Design Using LT SPICE | Lesson 4: Dynamic and Domino CMOS Design | | 26 mins |
| VLSI Design Using LT SPICE | Demonstration 4: D-Latch Design | | 12 mins |
| VLSI Design Using LT SPICE | Lesson 3: Static CMOS Design | | 29 mins |
| Digital Design 2021 | Lecture 16: Multiplexers and De-multiplexers | | 28 mins |
| Digital Design 2021 | Lecture 15: Decoders and Encoders | | 45 mins |
| VLSI Design Using LT SPICE | Demonstration 3: VCO Design | | 9 mins |
| VLSI Design Using LT SPICE | Lesson 2: Inverter Design | | 48 mins |
| VLSI Design Using LT SPICE | Demonstration 2: TSMC 180 nm NMOS Characterization Transfer Characteristics & Output Characteristics in LT Spice | | |
| VLSI Design Using LT SPICE | Demonstration 1: Importing TSMC 180 nm CMOS technology file into LT SPICE | | 16 mins |
| VLSI Design Using LT SPICE | Lesson 1: Introduction to CMOS | | 57 mins |
| Digital Design 2021 | Lecture 14: Multipliers and Magnitude Comparators | | 25 mins |
| Digital Design 2021 | Lecture 13: Combinational Logic and Arithmetic Circuits | | 55 mins |
| Digital Design 2021 | Lecture 12: Hazards in Digital Circuits | | 13 mins |
| Digital Design 2021 | Lecture 11: Logic Gate Realization | | 56 mins |
| Digital Design 2021 | Lecture 10: Quine-McCluskey (QM) Technique | | 49 mins |
| Digital Design 2021 | Lecture 9: Five Variable K-Maps | | 24 mins |
| Electrical Science Tutorials | Problems and Solutions BJT Circuits | | 20 mins |
| Digital Design 2021 | Lecture 8: K-Maps Part 2 | | 24 mins |
| Digital Design 2021 | Lecture 7: K-Maps Part 1 | | 53 mins |
| Electrical Science | BJT Amplifiers-Part2 | | 19 mins |
| Electrical Science | BJT Amplifiers-Part1 | | 38 mins |
| Electrical Science | Introduction to BJT | | 35 mins |
| Electrical Science Tutorials | Diode Rectifiers, Clippers, and Clampers | | 41 mins |
| Digital Design 2021 | Lecture 6: Boolean Algebra: Part 2 | | 28 mins |
| Digital Design 2021 | Lecture 5: Boolean Algebra: Part 1 | | 42 mins |
| Electrical Science | Diode Clipper and Clamper Circuits | | 32 mins |
| Electrical Science | Diode Rectifiers | | 52 mins |
| Digital Design 2021 | Lecture 4: Binary Codes | | 37 mins |
| Digital Design 2021 | Lecture 3: Number System Part 2 | | 54 mins |
| Electrical Science Tutorials | Passive Filters & Transformers | | 25 mins |
| Digital Design Lab | Lab11: Implementation of Majority Circuit using 74XX, TTL Gates in Tinkercad | | 25 mins |
| Electrical Science | Transformer Theory and Operation | | 35 mins |
| Electrical Science | Passive Filters | | 40 mins |
| Electrical Science Tutorials | Three Phase AC Circuits | | 24 mins |
| Digital Design 2021 | Lecture 2: Number System Part 1 | | 28 mins |
| Digital Design 2021 | Lecture 1: Introduction to Digital Systems | | 40 mins |
| Digital Design 2021 | Lecture 0: Introduction to Digital Design Course | | 9 mins |
| Electrical Science | Three Phase AC Circuits – Part 3 | | 35 mins |
| Electrical Science | Three Phase AC Circuits – Part 2 | | 25 mins |
| Electrical Science | Three Phase AC Circuits - Part 1 | | 37 mins |
| Electrical Science Tutorials | Frequency Domain Analysis of RLC Circuit | | 42 mins |
| Electrical Science | Resonance in AC Circuits | | 37 mins |
| Electrical Science | AC Response for Parallel RLC Circuits | | 26 mins |
| Electrical Science | AC Response for a Series RLC Circuits | | |
| Electrical Science Tutorials | Problems and Solutions: Basics of AC Circuit | | 26 mins |
| Electrical Science | AC Response for Pure Resistive, Inductive and Capacitive Circuits | | 24 mins |
| Electrical Science | Introduction to AC Circuits | | 47 mins |
| Electrical Science Tutorials | Problems and Solutions Second-Order Circuits | | 31 mins |
| Electrical Science Tutorials | Problems and Solutions First Order Circuits | | 23 mins |
| Electrical Science | Second Order Circuits, RLC series and RLC Parallel Circuits | | 32 mins |
| Electrical Science Hobby Projects | Tinkercad Project: Glowing LED with Interlocking Relay, 9 V battery 7805 Regulator | | 7 mins |
| Electrical Science Hobby Projects | Tinkercad Project: Glowing LED with 9 V battery 7805 Regulator and 5 V Relay | | 7 mins |
| Electrical Science Hobby Projects | Tinkercad Project: Staircase Wiring | | 4 mins |
| Electrical Science Hobby Projects | Tinkercad Project: Driving LED with 9 V battery and resistor | | 5 mins |
| Electrical Science Hobby Projects | Introduction to Tinker cad. Simple Switch and Bulb Circuit. | | 9 mins |
| Electrical Science Tutorials | Thevenin's Norton's, Max-Power Transform, Superposition Theorem | | 33 mins |
| Electrical Science Tutorials | Mesh and Node Analysis | | 22 mins |
| Electrical Science Tutorials | Problems and Solutions Electrical Sciences Power Sources | | 28 mins |
| Electrical Science | First Order Circuits | | 42 mins |
| Electrical Science | Inductors | | 37 mins |
| Electrical Science | Capacitors | | 46 mins |
| Electrical Science | Superposition Theorem | | 26 mins |
| Electrical Science | Norton's Theorem & Max Power Transform Theorem | | 30 mins |
| Electrical Science | Thevenin's Theorem | | 28 mins |
| Electrical Science | Mesh and Node Analysis | | 27 mins |
| Electrical Science | Circuit Analysis and Kirchhoff's Laws | | 30 mins |
| Electrical Science | Basic Electrical Quantities | | 39 mins |
| Electrical Science | Power Sources | | 34 mins |
| Microprocessors & Interfaces | Lecture 32: 8086 Interfaces Analog-To-Digital Converters (ADC) 0808,0809,0804, Digital-To-Analog Converters 0830(DAC). | | 36 mins |
| Microprocessors & Interfaces | Lecture 31: Programmable Interrupt Controller 8259A | | 65 mins |
| Microprocessors & Interfaces | Lecture 30: 8253/8254 Timer: Part 2 | | 45 mins |
| Microprocessors & Interfaces | Lecture 29: 8253/8254 Timer: Part 1 | | 50 mins |
| Microprocessors & Interfaces | Lecture 28: 8255 Programmable Peripheral Interface: Part 2 | | 34 mins |
| Microprocessors & Interfaces | Lecture 27: 8255 Programmable Peripheral Interface: Part 1 | | 35 mins |
| Microprocessors & Interfaces | Lecture 26: 8086 I/O Interfacing | | 35 mins |
| Microprocessors & Interfaces | Lecture 25: 8086 and 80286 Memory Interfacing: Part 3 | | 37 mins |
| Microprocessors & Interfaces | Lecture24: 8086 Bus Cycle, Machine Cycle, and Instruction Cycle | | 50 mins |
| Microprocessors & Interfaces | Lecture 23: 8088 Memory Interface Part-2 | | 22 mins |
| Microprocessors & Interfaces | Lecture 22: 8086 Memory Interface: Part-1 | | 34 mins |
| Microprocessors & Interfaces | Lecture 21: 8086 Interrupts | | 50 mins |
| Microprocessors & Interfaces | Lecture 20: 8086 Adress Decoding and Bus De-Multiplexing | | 49 mins |
| Microprocessors & Interfaces | Lecture-19: 8086 Memory Organisation | | 38 mins |
| Microprocessors & Interfaces | Lecture 18: 8086 Pin Diagram | | 34 mins |
| Microprocessors & Interfaces | Lecture 17: 8086 Branching & Program Control Instructions: Part-2 | | 41 mins |
| Microprocessors & Interfaces | Lecture-15: 8086 Logical Instructions : Part-2 | | 34 mins |
| Microprocessors & Interfaces | Lecture 16: 8086 Branching & Program Control Instructions: Part-1 | | 34 mins |
| Microprocessors & Interfaces | Lecture 14: 8086 Logical Instructions: Part-1 | | 26 mins |
| Microprocessors & Interfaces | Lecture 13: 8086 Arithmetic Instructions: Part-2 | | 35 mins |
| Microprocessors & Interfaces | Lecture 12: 8086 Arithmetic Instructions : Part-1 | | 45 mins |
| Microprocessors & Interfaces | Lecture 11: 8086 MASM Directives: Microsoft Assembler Directives | | 34 mins |
| Microprocessors & Interfaces | Lecture 10: 8086 Instructions Set: Part-4 | | 49 mins |
| Microprocessors & Interfaces | Lecture 9: 8086 Instructions Set : Part-3 | | 44 mins |
| Microprocessors & Interfaces | Lesson 8: 8086 Instructions Set : Part-2 | | 51 mins |
| Microprocessors & Interfaces | Lecture 7 : 8086 Instructions Set : Part-1 | | 57 mins |
| Microprocessors & Interfaces | Lecture 6: Addressing Modes & OP-Code, Problems, and Solutions | | 47 mins |
| Microprocessors & Interfaces | Lecture 5: 8086 Addressing Modes and OP-Code | | 61 mins |
| Microprocessors & Interfaces | Lecture 4: 8086 Architecture, Memory Segmentation, Physical Address generation, Bus Interface Unit | | 46 mins |
| Microprocessors & Interfaces | Lecture 3: Overview of 8086 Microprocessor and Explanation of PIN Diagram | | 43 mins |
| Microprocessors & Interfaces | Lecture 2: Overview of 8086 Microprocessor | | 44 mins |
| Microprocessors & Interfaces | Lecture 1: Introduction | | 23 mins |
| Microprocessors & Interfaces Lab | Lab 11: Program to Display numbers in LED Display | | 7 mins |
| Microprocessors & Interfaces Lab | Lab 10: Program to Control Traffic Light System | | 13 mins |
| Microprocessors & Interfaces Lab | Lab 9: Program to Control Stepper Motor | | 23 mins |
| Microprocessors & Interfaces Lab | Lab 8: 8086 Interrupts | | 22 mins |
| Microprocessors & Interfaces Lab | Lab 07: ALP for Reversal of String | | 21 mins |
| Microprocessors & Interfaces Lab | Lab 6: Arranging numbers in ascending order and Matrix addition | | 19 mins |
| Microprocessors & Interfaces Lab | Lab 5: Programming with 8086 EMU Emulator , ALP for Average of N Numbers and Fibonacci Series | | 11 mins |
| Microprocessors & Interfaces Lab | Lab 4: Addressing Modes in 8086 | | 30 mins |
| Microprocessors & Interfaces Lab | Lab 3: Temperature Conversion from Fahrenheit to Celcius and Factorial of a Number | | 26 mins |
| Microprocessors & Interfaces Lab | Lab 2: 8086 Arithmetic Operations | | 14 mins |
| Microprocessors & Interfaces Lab | Lab 1: Introduction to 8086 Emulator | | 37 mins |
| Microprocessors and Interfaces Tutorials | Tutorial 13: 8086 Interfaces 8255A PPI/8254 Timer and 8259A PIC | | 32 mins |
| Microprocessors and Interfaces Tutorials | Tutorial 12: | | 36 mins |
| Microprocessors and Interfaces Tutorials | Tutorial 11: 8086, 8088, and 80286 Memory Interface | | 40 mins |
| Microprocessors and Interfaces Tutorials | Tutorial 10: 8086 Memory Interface and Address De-coding | | 28 mins |
| Microprocessors and Interfaces Tutorials | Tutorial 9: 8086 Memory Organisation and Interrupts | | 30 mins |
| Microprocessors and Interfaces Tutorials | Tutorial 8 : 8086 Branching Operations | | 29 mins |
| Microprocessors and Interfaces Tutorials | Tutorial 7 : 8086 Arithmetic and Logical Operations | | 21 mins |
| Microprocessors and Interfaces Tutorials | Tutorial 6 : 8086 Arithmetic Operations ALPs | | 41 mins |
| Microprocessors and Interfaces Tutorials | Tutorial 5 : 8086 Data Transfer ALPs | | 29 mins |
| Microprocessors and Interfaces Tutorials | Tutorial 4 : 8086 Assembly Language to Machine Language Op-code. Addition, Subtraction BCD ALP | | 40 mins |
| Microprocessors and Interfaces Tutorials | Tutorial 3 : 8086 Addressing Modes and Physical Address Calculation | | 26 mins |
| Microprocessors and Interfaces Tutorials | Tutorial 2 : Microprocessor Design | | 35 mins |
| Microprocessors and Interfaces Tutorials | Tutorial 1 : Review of Binary arithmetic Operations | | 35 mins |
| Hobby Projects: Digital Design and Microprocessors | Programming with Arduino in TinkerCad: Potentiometer Input (Analog), Bar graph, and 7-Segment Display Outputs. | | 15 mins |
| Hobby Projects: Digital Design and Microprocessors | Programming with Arduino in TinkerCad: Temperature Sensor, Celsius to Fahrenheit Conversion & LCD Display. | | 11 mins |
| Hobby Projects: Digital Design and Microprocessors | Implementation of Analog to Digital Converter ADC, (2-bit Digital Output ) using Arduino in TinkerCad | | 13 mins |
| Hobby Projects: Digital Design and Microprocessors | Programming with Arduino in TinkerCad : Switch-controlled Bulb and Blinking LED. | | 20 mins |
| Hobby Projects: Digital Design and Microprocessors | Introduction to TinkerCad | | 30 mins |
| Hobby Projects: Digital Design and Microprocessors | Quiz Buzzer Circuit with 7400 NAND Gates in LT SPICE | | 8 mins |
| Hobby Projects: Digital Design and Microprocessors | Debouncing Switch with 7400 NAND Gates in LT SPICE | | 20 mins |
| Digital VLSI | TSMC 180 nm NMOS Characterization Transfer Characteristics & Output Characteristics in LT Spice | | 10 mins |
| Digital VLSI | TSMC 180 nm CMOS Full Adder in LT Spice, Measurement of Delay and Power, Sizing of Transistors of 28-T CMOS Full Adder | | 25 mins |
| Digital VLSI | Importing PTM 7nm, 16 nm, 22nm CMOS Technology files Into Virtuoso Cadence® | | 10 mins |
| Digital VLSI | Measurement of Power and Delay Analysis of CMOS digital Circuits in Cadence. | | 56 mins |
| Digital VLSI | Importing Stanford University CNFET model into Cadence Virtuoso | | 15 mins |
| Digital VLSI | Importing CMOSS 60 nm, 45 nm, 22nm, 16nm, 10 nm, and 7nm Technology Files into LT SPICE | | 10 mins |
| Digital VLSI | 180 nm CMOS Inverter Characterization with LT SPICE | | 16 mins |
| Digital VLSI | Low Power Techniques for Digital VLSI Circuits | | 45 mins |
| Analog Electronics with Operational Amplifiers | Op-Amp based VCO | | 16 mins |
| Analog Electronics with BJT | Differential Amplifier | | 23 mins |
| Analog Electronics with BJT | Common Base (CB) Amplifier and Cascode Amplifier | | 19 mins |
| Analog Electronics with BJT | Common Collector (CC) Amplifier and CE-CC Cascade Amplifier | | 33 mins |
| Analog Electronics with BJT | Common Emitter (CE) Amplifier Design | | 61 mins |
| TCAD Sentaurus | Introduction to Sentaurus TCAD : Part-2 | | 77 mins |
| TCAD Sentaurus | Introduction to Sentaurus TCAD-Part 1 | | 3 mins |
| Analog Communication | Lecture 2 : Super Heterodyne Receivers | | 32 mins |
| Analog Communication | Lecture 1 : Amplitude Modulation | | 63 mins |
| Electrical Machines | Lecture 2 : DC Motors | | 32 mins |
| Electrical Machines | Lecture 1 : DC Generators | Easy | 60 mins |
| Digital Design Lab | Lab 10 : Sequential Circuit Design using Flip-flops in Xilinx ISE | | 15 mins |
| Digital Design Lab | Lab 9 : Combinational Circuit Design using Decoders and Multiplexers in Xilinx ISE | | 13 mins |
| Digital Design Lab | Lab 8 : Sequential Circuit Design using D and JK Flipflops in LT SPICE | | 12 mins |
| Digital Design Lab | Lab 7 : Combinational Circuit Design using Decoders and Multiplexers in LTSPICE | | 10 mins |
| Digital Design Lab | Lab 6 : Dataflow Modelling Implementation of 4-Bit Adder & BCD Adder in Xilinx ISE | | 25 mins |
| Digital Design Lab | Lab 5 : Dataflow Modelling and Implementation of Adders in Xilinx ISE | | 35 mins |
| Digital Design Lab | Lab 4 : Introduction to Verilog and Implementation of Majority Circuit in Xilinx ISE | | 22 mins |
| Digital Design Lab | Lab 3 : Four-Bit Parallel Adder & BCD Adder in LT SPICE | | 16 mins |
| Digital Design Lab | Lab 2 : Parity Generator and Adders with LT Spice using 7400 Series TTL Gates | | 25 mins |
| Digital Design Lab | Lab 1 : Introduction to LT SPICE and Implementation of Majority Circuit | | 53 mins |
| Digital Design Tutorials | Tutorial 13 : Binary Multiplication | | 26 mins |
| Digital Design Tutorials | Tutorial 12: CMOS Implementation | | 26 mins |
| Digital Design Tutorials | Tutorial 11 : Memory and PLD | | 27 mins |
| Digital Design Tutorials | Tutorial 10 : State Table Reduction | | 25 mins |
| Digital Design Tutorials | Tutorial 9 : Sequence Detector | | 32 mins |
| Digital Design Tutorials | Tutorial 8 : Sequential Circuit Design | | 27 mins |
| Digital Design Tutorials | Tutorial 7 : Flip-Flops | | 30 mins |
| Digital Design Tutorials | Tutorial 6 : Hazards, Design using Decoders a Multiplexers | | 24 mins |
| Digital Design | Lecture 29: Booth Multiplier | | 28 mins |
| Digital Design | Lecture 28: Multiplier | | 28 mins |
| Digital Design | Lecture 27: Programmable Logic Controllers and CMOS Design | | 37 mins |
| Digital Design | Lecture 26: Programable Logic Devices | | 67 mins |
| Digital Design | Lecture 25: Memory | | 37 mins |
| Digital Design | Lecture 24: Applications of Sequential Circuits | | 36 mins |
| Digital Design | Lecture 23: Synchronous Counters | | 90 mins |
| Digital Design | Lecture 22: Asynchronous Counters | | 47 mins |
| Digital Design | Lecture 21: Registers | | 42 mins |
| Digital Design | Lecture 20: State Table Reduction | | 23 mins |
| Digital Design | Lecture 19: Sequence Detector | | 57 mins |
| Digital Design | Lecture 18: Sequential Circuit Design | | 52 mins |
| Digital Design | Lecture 17: T & JK Flip-Flops | | 40 mins |
| Digital Design | Lecture 16: D-Latches and D-Flipflops | | 58 mins |
| Digital Design | Lecture 15: Sequential Logic & SR Latch | | 55 mins |
| Digital Design | Lecture 14: Multiplexers and Demultiplexers | | 47 mins |
| Digital Design | Lesson 13: Encoders and Decoders | | 50 mins |
| Digital Design | Lecture 12: Four Bit Adders, Multipliers, and Magnitude Comparators | | 44 mins |
| Digital Design | Lecture 11 : Combinational Logic and Arithmetic Circuits | | 40 mins |
| Digital Design | Lecture10: Hazards and Multi-Output Circuits | | 54 mins |
| Digital Design | Lecture 9: Quine-McCluskey (QM) Technique | | 55 mins |
| Digital Design | Lecture 8: Five Variable K-map | | 43 mins |
| Digital Design | Lesson 7: Logic Gate Realization and Design | | 27 mins |
| Digital Design | Lecture 5: Two and Three Variable K-Maps | | 43 mins |
| Digital Design | Lecture 6 : Four Variable K-Maps | | 64 mins |
| Digital Design Tutorials | Tutorial 5 : Combinational Circuit Design | | 35 mins |
| Digital Design Tutorials | Tutorial 4: Quine-McCluskey (QM) Method | | 44 mins |
| Digital Design Tutorials | Tutorial 3 : Karnaugh Maps | | 46 mins |
| Digital Design Tutorials | Tutorial 2 : Boolean Algebra & Logic Gates | | 38 mins |
| Digital Design Tutorials | Tutorial 1 : Binary Number System | | 25 mins |
| Digital Design | Lecture 4: Boolean Algebra | Hard | 56 mins |
| Digital Design | Lecture 3 : Number System Part-2 | Hard | 50 mins |
| Digital Design | Lecture 1 : Introduction to Digital Electronics Design  | Easy | 52 mins |
| Digital Design | Lecture 2: Number Systems Part-1 | Easy | 56 mins |
Dr. Sanjay Vidhyadharan is an Assistant Professor in the Electrical and Electronics Engineering group of Work Integrated Learning Programmes Division, BITS-Pilani. He graduated from Regional Engineering College (NIT), Bhopal, in 1994 and was commissioned in the Engineering branch of the Indian Air Force in Nov 1994. He served in the Indian Airforce for 22 years, working as Senior Engineering Officer, Chief Engineering Officer and Joint Director at various helicopter bases/Air HQs. He took pre-mature retirement from the IAF as Wing Commander in 2016 to pursue his passion for academics. He has immense experience in the maintenance of various kinds of helicopters.
He obtained his M.Tech. in Micro Electronics and VLSI Design from the Indian Institute of Technology Kharagpur in 2010. He completed his Ph.D. research work from BITS Pilani Hyderabad campus in Jan 2017-Jan 2020 and was awarded doctorate in Jun 2020.
Dr. Sanjay was a qualified instructor of IAF and had worked as Commanding Officer of a Premier Technical Training Institute of IAF. He has also worked as a Visiting Assistant Professor at BITS Pilani, Hyderabad Campus, from Feb 2020 to Aug 2021. His area of interest is Analog and Digital VLSI. He has published more than 20 publications in various international journals and conferences in low-power VLSI design.